Everything's Coming Up Shina Morris!
Oct 30, 2023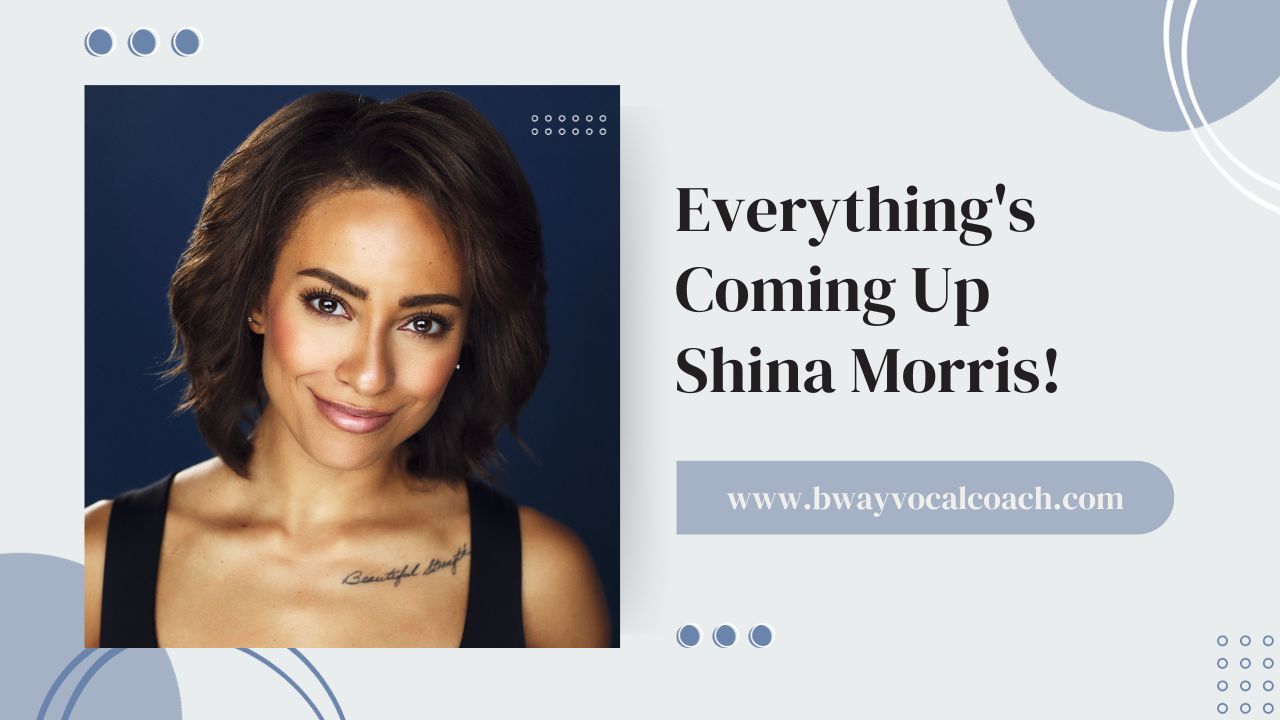 Cynthia met Shina Morris back in 2004 during her first year teaching position at the University of Michigan, while Shina was a Freshman. Since then, Shina has gone on to have an incredibly successful Broadway career, performing in West Side Story, Tootsie, Anastasia, Holiday Inn, Cinderella, Annie, Nice Work If You Can Get It, Anything Goes, and the upcoming Broadway Revival of Spamalot.

In addition to her long list of credits, Shina is also the mom to a 13-month-old girl. We were honored to sit down and talk with her not only about her work, but what it's like starting a family, getting back into the business after having a baby, and her experiences through it all!
(For all the parents out there, we salute you! This conversation is for you.) Let's dive right in!

Q: To kick things off,

tell us about where you grew up and how you got into performing.
A: My parents were in the military, so I grew up in Wichita, Kansas. I started ballet when I was very young, like three-ish, because my mom noticed my interest in it after watching The Nutcracker on TV. Thankfully, Wichita is a wonderful hub for performing arts and my dance studio at the time was half theater, half dance. They did middle school performing shows and then there's kind of a filter into the Music Theater Wichita program.
In high school, my theater teacher and choir teacher were truly wonderful mentors for me. Also, Jesse Warkentin, who has conducted some of the Wicked tours, was a grad student at the time in Wichita, and he helped me prepare my music for college auditions. But they were all a huge part of how I decided I wanted to go to college for musical theater and do this professionally.
Later in high school, I became an intern at Music Theatre Wichita, Linda Goodrich and Mark Madama were there as directors and choreographers. And then it was like, truly half of the resident ensemble was from The University of Michigan, and I was like, "Wait, you can go to college for this?" I had to do the Unifieds for my college auditions because I was in Kansas, and it was just hard to get to other places. Michigan was top of my list -- I tried for a couple of other places and didn't get in, but I got into Michigan and I knew it would be a great fit without even touring. I was just excited to get started.
Q: You graduated in 2008 and moved to New York City.

What was that transition like from student to kicking off your career?
A: My best friend Darren and I took the Amtrak from Baltimore with all of our luggage, pulled it up the escalator, moved to New York City in 2008, and we were like, "Okay, what are we doing? Where are we going?". It was hard, you know, going from a college student where you have structure and now you have no structure and you just don't know how to put everything together. And thankfully, I had my Michigan community, which allowed me to have so many opportunities and didn't feel quite so lonely. Just coming with my Equity card and an agent was definitely a jumping-off point for me to get in the door without having too much stress.
Q: How and when did you make the decision to start your family as a working performer?
A: My husband is about six years older than me, and he's from a big family, so he was ready before I was to start our own. I always said I wanted to be married five years before we had kids just because I was still performing. I have so many wonderful friends, peers, and colleagues who have families, and do this crazy business with children, so I knew it could be done. But I wasn't just quite there yet.
But hindsight being what it is now, I wish we had tried sooner, but then the world shut down, and we were like, okay, I guess now is a good time as ever. We had two miscarriages before getting pregnant in 2021, which again, is part of why I thought we should have started sooner, you know, but you don't know until you try. It was in the middle of the pandemic when it happened, so I mean, thankfully I wasn't in a show where I had to grapple with this terrible and painful loss while performing. I cannot even imagine, having to go to the emergency room, it was a whole drawn-out thing for my first two, they were not resolved on their own. If I were in a show, I probably would have convinced myself I could push through the pain. But I am very grateful that I had the time to heal and could fully process the situation. But people have to do it constantly, in and outside our industry.
Q: Now coming back into working again after going through your pregnancy, and as a dancer, where your body is literally your instrument, what has that transition felt like?



A: It's wild. I had to have an emergency c-section, which we had a birth plan, and we had all the tools that I could have in my box - but then obviously, whatever happens, will happen. So I was not expecting to heal in this way. It was hard because, in my brain, I was planning on walking with her outside and we were going to start moving functionally at least within the first month and then it kind of turned into like three months.
Honestly, it was super lonely living upstate because all my friends by the time Celestia was born, had all gone back to work and everyone works in the city. So I was like, okay, cool. I'm by myself up here. So the first thing I did physically was physical therapy and that helped me postpartum learn to re-engage my core and find that. again.

The first show I returned to was the PBS concert in March. And again, I'm so grateful, it was like dipping my toe back in the pool. We had three weeks of rehearsal for the ensemble, as it was just 12 of us. So we had a loving, calm, and explorative rehearsal process. I went into it feeling mortified because I hadn't put on any of my dance clothes or my dance shoes since the baby and I didn't know if anything would fit. Internally, I was like, "What am I even doing?" I had no routine, no practice, except for surviving mom life.
So March was the time when I decided to snap back into it, vocalize, and do anything for my benefit. Again, the PBS cast was a very loving room, our dance associate was a mom of two, and another is a mother as well, so having people acknowledge and understand it helped.
I was prepared to go back to work and to be around people - it was just everything I wanted it to be for coming back into this world.
Q: Can you speak to that feeling of uncertainty about what comes next after making this big choice for you and your family?
A: Yeah, I've seen so many colleagues and friends go through childbirth and postpartum and then come back to performing. But still, I was fearful. I had no idea what my body was going to be capable of, even just feeling so foggy and scatterbrained.
But it's something we're always navigating, everything is changing daily. Just recently, I had to make a really hard decision for an upcoming job. And we as a family, I think again, if I didn't have a baby and we were just the two of us, I would have been like, "Yeah, let's do this show that's like a million times riskier. Who knows how long it will run but it'll be amazing if it has a wonderful life".
Yet with the baby in the picture, I have to think about this other show that I know will run longer and it means I can get health weeks, which we desperately need for switching healthcare for our family. And so it kind of came down to that, but it was super, super hard for me and my ego.
Q: As you're about to head back into rehearsals, how do you and your husband plan ti navigate childcare, being that you're both working parents?
A: We have applied for a couple of daycares in the area, but a lot of them have wait lists. So, now we're trying to decide if we go through Broadway Babysitters because they have a giant pool. A lot of our stuff right now, again, is occasional all the time. We just want her to be a little more socialized because during this last year before we moved back to the city she was upstate a lot. And so we just didn't have a community like we have in the city. Here we have what we call our little baby gang and every morning there's the same seven kids that are hanging out together and they're all about like two weeks apart, so everyone's the same age group. So it's so cute to see them all growing up and learning a bunch of things together.
If you're interested in diving deeper into this interview or exploring other interesting musical theatre conversations - check out the Broadway Vocal Coach podcast! Or check us out on Instagram, and get involved in the conversation!
Are you a musical theatre performer and wondering what your next step should be? Take our Quiz - we can't wait to hear your story and help you take the next step in your career.
Let's Keep in Touch!
Join our mailing list to receive the latest news and updates from BVC.
We hate SPAM. We will never sell your information, for any reason.