The Ins and Outs of Actors Equity with Todd Buonopane
Nov 14, 2023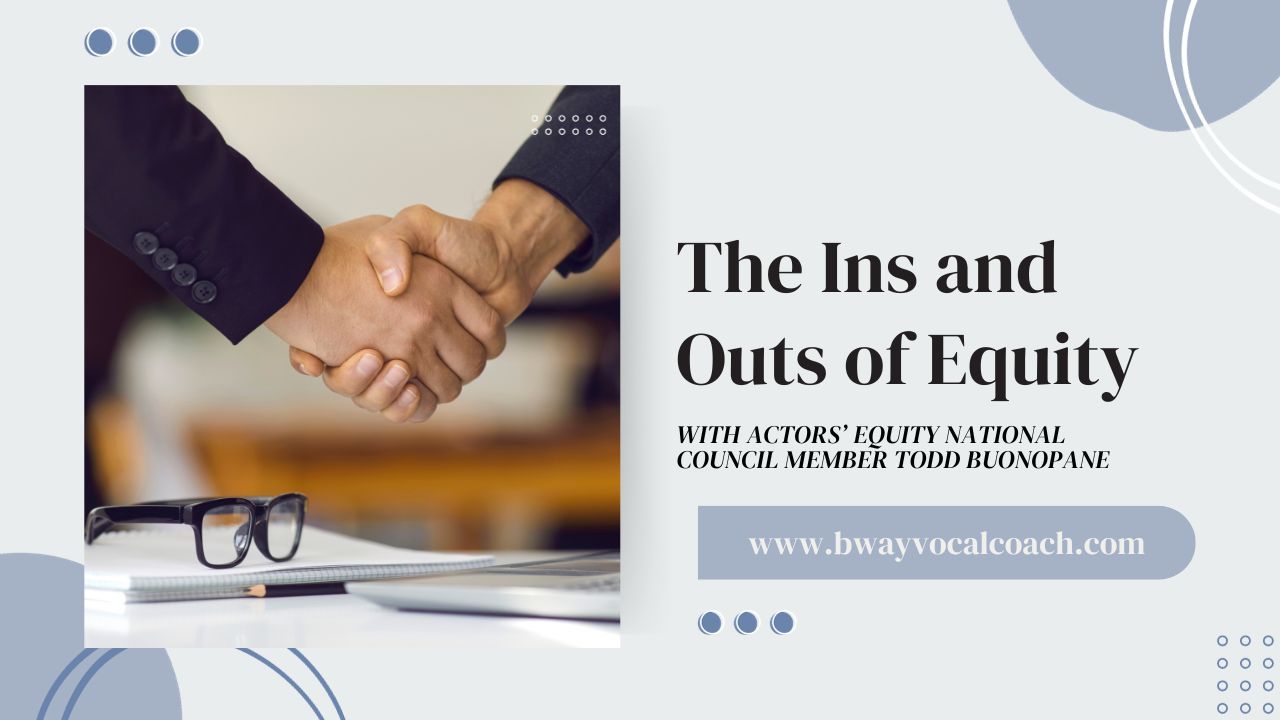 Written By: Chelsea & Cynthia
Featuring: Todd Buonopane
For stage actors or stage managers, the Actors Equity Association is their union dedicated to representation.
But deciding whether to join the union (or not) can be nuanced and require some level of guidance.
To help provide you with insight into your options as a performer, we were excited to sit down with Todd Buonopane, a Broadway and television actor, and Actors' Equity National Council member, and have him answer three of the most common questions!
What is the Actors Equity Association Union?
To take it straight from their website, the "Actors' Equity Association is a national labor union, founded for the purpose of negotiating strong agreements that protect the wages, hours and working conditions of its members; enforcing those agreements; organizing new work opportunities for professional stage managers and actors and pursuing appropriate legislation on matters affecting their profession.
Actors' Equity Association values diversity and inclusion and is aggressive and responsive in seeking equity for all its members. Furthermore, Actors' Equity Association seeks to lead the industry as a voice for the values it has adopted."
Essentially, the goal of the union is to provide access, protection, and equality for all stage performers and managers throughout the nation.
What Are The Different Types of Auditions (Union and Non-Union)?
Equity Principal Auditions (EPAs): Auditions for leading (principal) roles in plays & musicals.
Online and day-of sign-up for Equity members.
Non-equity members are seen only if there is time after all equity members have auditioned.

Usually sing a full short song.
Equity Chorus Call (ECC): Auditions for ensemble members for larger-scale musicals. Singers and dancers have two separate calls.
Everyone who shows up has to be seen!
Usually sing a 16-bar cut. If you dance first, they may keep people singing.
You may be "type-d out" if a lot of people show up.
Open Calls or Self-Tape Submissions: General auditions that typically happen when a show is looking to cast younger people, or people with other special skills outside of musical theatre. Nowadays, performers are often asked to submit a self-tape before attending an audition in person.
Agent Submissions: Sometimes if a casting director has seen you in something, they may bring you in on agent submission day.
Often you are given material through your agent (rather than using your own audition book).

Equity rules do not apply to these auditions, but if you have issues, always go to your union!
When and How Can You Join The Union?
As of 2023, there are three tracks available for you to join the Actors Equity Union, which are as follows:
Equity Contract: This would occur when your employer offers you (a current non-union member) an equity contract. You can earn your place in the union, by working a minimum of 25 weeks as a nonunion in an Equity theater.
Open Access: This is the union's program that allows any stage actor or stage manager within Equity's geographical jurisdiction to easily join.
As of 2023, the only qualification you need is to show that you have worked in theatre and that you have been paid to perform or to stage manage. You would need to provide proof of your employment, by submitting a copy of your contract and proof of pay (i.e. pay stub, W2, 1099, etc).
Members who join via Open Access do have to pay a minimum of $600 initial payment with their application and have completed any non-union work.
Associated Actors and Artistes of America Affiliation: Membership is available to union members (of a minimum of 1 year) in a performing arts sibling union: SAG-AFTRA, AGMA, AGVA, or GIAA.
Applicants using this track for joining the union are also expected to pay a minimum $600 initial payment and a written statement from their parent union stating that they meet the other requirements as stated here.
For a more in-depth conversation about the Actors Equity Union featuring Todd Buonopane, click here to listen to our most recent episode.
If you're interested in diving deeper into this interview or exploring other interesting musical theatre conversations - check out the Broadway Vocal Coach podcast! Or check us out on Instagram, and get involved in the conversation!
Are you a musical theatre performer and wondering what your next step should be? Take our Quiz - we can't wait to hear your story and help you take the next step in your career.
Let's Keep in Touch!
Join our mailing list to receive the latest news and updates from BVC.
We hate SPAM. We will never sell your information, for any reason.